For a few years now lots of folks I follow have a page or blog post talking about their current setup. So here is mine...
Hardware
Macbook Pro 2021 M1 Max 14"
Finally a 14 inch Macbook Pro, I have been waiting for this size for years. As I tend to keep my main machine for several years, I usually get a top configuration. So far I yet have to get that fan going. This machine is a dream and I love the keyboard so much, I wish Apple would build it as a separate keyboard too.
Dell 27P21Q 4K USB-C Display
I used to have a predecessor that served me well for several years. Since I'm not a gamer, this display is perfect for my everyday needs and only having a single USB-C cable to charge and connect my MacBook is amazing.
Apple Magic Keyboard with Touch ID, Magic Mouse and Magic Trackpad
For the longest time I used to have a keyboard with a numeric keypad, but I realized that I can save some space on my desk and use the smaller keyboard. It is totally fine for me. When I'm coding, I'm not using my mouse or trackpad a lot, but it's nice to have them for video and some basic design work.
Satechi Universal Aluminum Vertical Stand
This is a newer addition, I simply used my Roost Laptop Stand before, but I wanted a cleaner look on my desk, so I decided to save some space with a vertical stand.
Logitech Streamcam and Elgato Key Light Air
For screen recordings that have my face in it and for all video call needs, I got myself a nice webcam to sit on top of my laptop and an Elgato light that goes with it. Additionally I have a few Philips Hue lamps around my desk that help me make my Swiss cheese face look less dead 🇨🇭🧀.
Synology NAS DS220+ for local backups and as extra storage
On top of using Backblaze as my go to cloud backup service, I wanted to have some additional storage and the possibility to use TimeMachine backups, so I have a little NAS below my desk.
Apple AirPods Max and Apple AirPods
By now you can tell that I'm an  fan. With the AirPods Max, I finally found an active noise cancelling headphone that is comfortable to wear all day. On the go I mostly use AirPods, the ones without noise cancelling. One of my first YouTube videos is about cleaning the ear cushions for AirPods Max, it's probably a terrible video, but hey it got me at least a few views.
Herman Miller Aeron Chair
Sitting all day is unhealthy and my little office can get quite hot during the summer season, so this is the perfect chair. In it I sit properly and since both the back and bottom are a mesh, I tend to sweat much less. And let's be honest a good office chair and a good bed go a long way to have your back.
Software
IDE: PhpStorm and VS Code
Most of the time I use PhpStorm with the Laravel Idea extension. This is a great IDE as it's fast and very stable. Most of the time I use a light theme while coding, because I'm not a zombie 🧟‍♂️, but I do like system based dark modes for websites and other apps. I tend to make my IDE as minimal as possible, this forces me to rely on keyboard shortcuts more: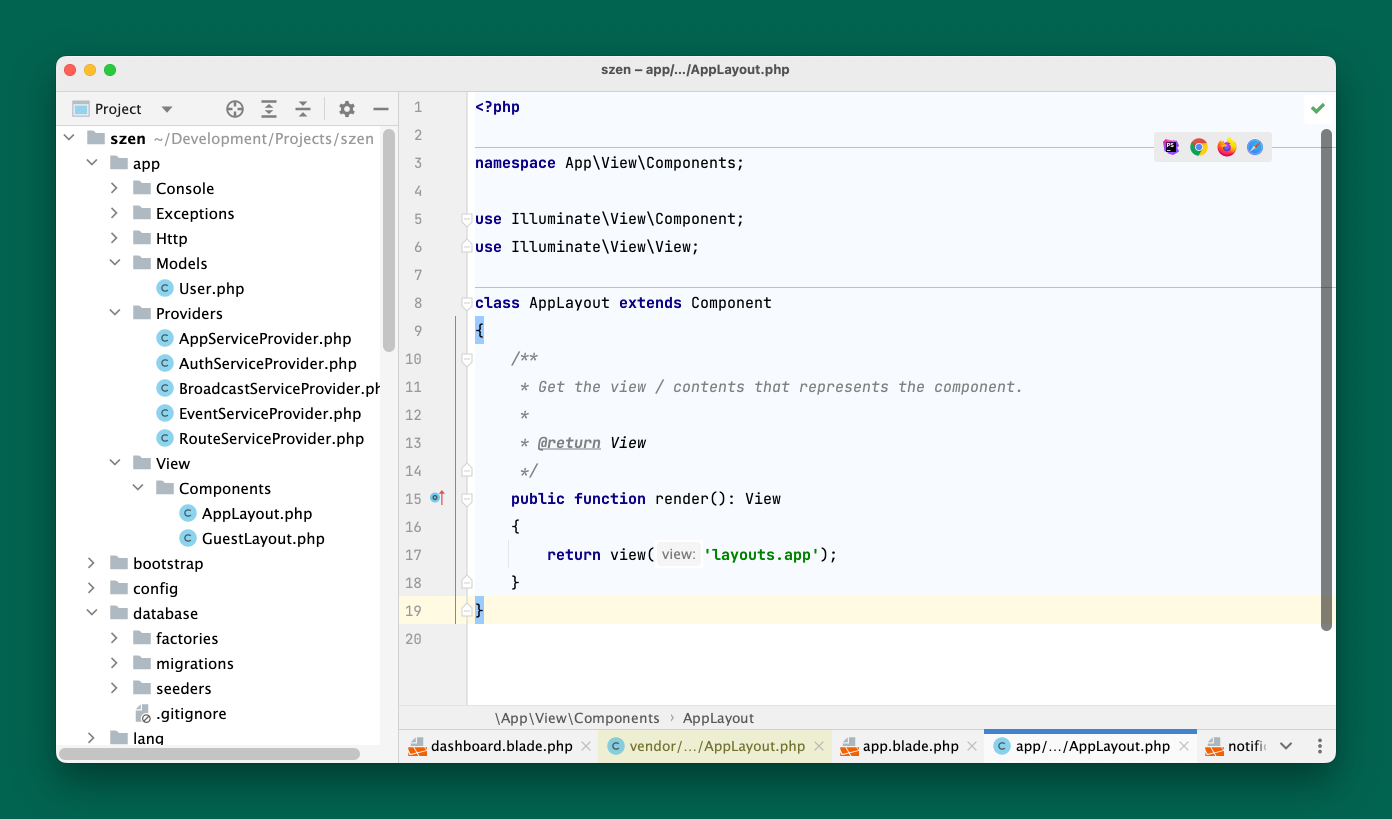 Browser: Firefox and Orion
My favorite browsers are Mozilla Firefox and the newish Orion browser. They are fast and offer almost everything that I need. Of course I do have Chrome, Brave and Safari installed too, but I tend not to use them as much.
Terminal: Warp
Somehow I never got used to integrated terminals in my IDEs of choice, so I use the newish Warp terminal with Oh my Zsh as my terminal of choice. This reminds me that I'll need to update my .dotfiles repo. Bonus: Warp is written in Rust.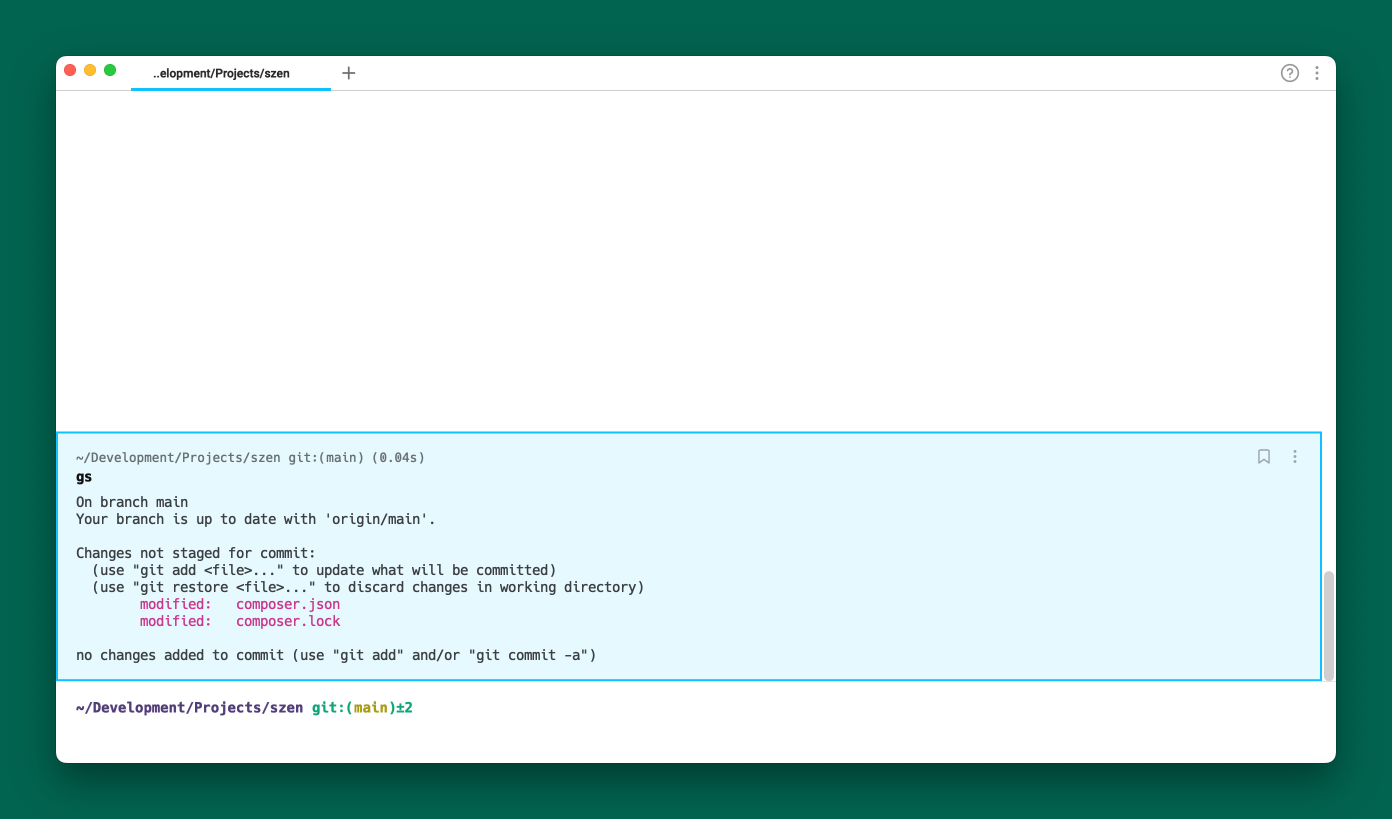 Launcher: Raycast
Alfred was my app launcher and command central for years, but after checking out Raycast, I made the switch and never looked back. It's smart and fast, give it a try.
---
Is that all?
No of course not, there are tons and tons of additional apps and tools I use almost daily. I'll update this page over time and maybe sprinkle a few videos here and there about my personal setup.
Last updated: December 12, 2022